Joystream Gymnastics Clothes for Girls
At Joystream, we understand that gymnastics isn't just a sport, it's the true joy of life for little girls. That's why we've created a line of girl's gymnastics wear that's made with the utmost quality and comfort, but with a twist of creativity that's as unique as each gymnast who wears it. From our stunning gymnastics leotards and unitards to our custom gymnastics apparel and activewear, Joystream has everything your little girls need to showcase their skills with style. So, let your kids feel excited and joyful in our one-of-a-kind gymnastics clothes and outfits.
Joystream Gymnastics Leotards for Girls
At JOYSTREAM, we believe that your girl deserves to look and feel great while practicing gymnastics. That's why we have curated a selection of cute gymnastics leotards for girls that are perfect for both the studio and the stage. Our collection includes leotards for girls from 5 to 16 years old, in a variety of sizes and styles. We provide best-selling gymnastics leotards that offer unique styles, vibrant colors, and cute prints your girl will love. Choose from our range of girl's gymnastics leotards and give your little athlete the confidence to shine!
Gymnastics Leotards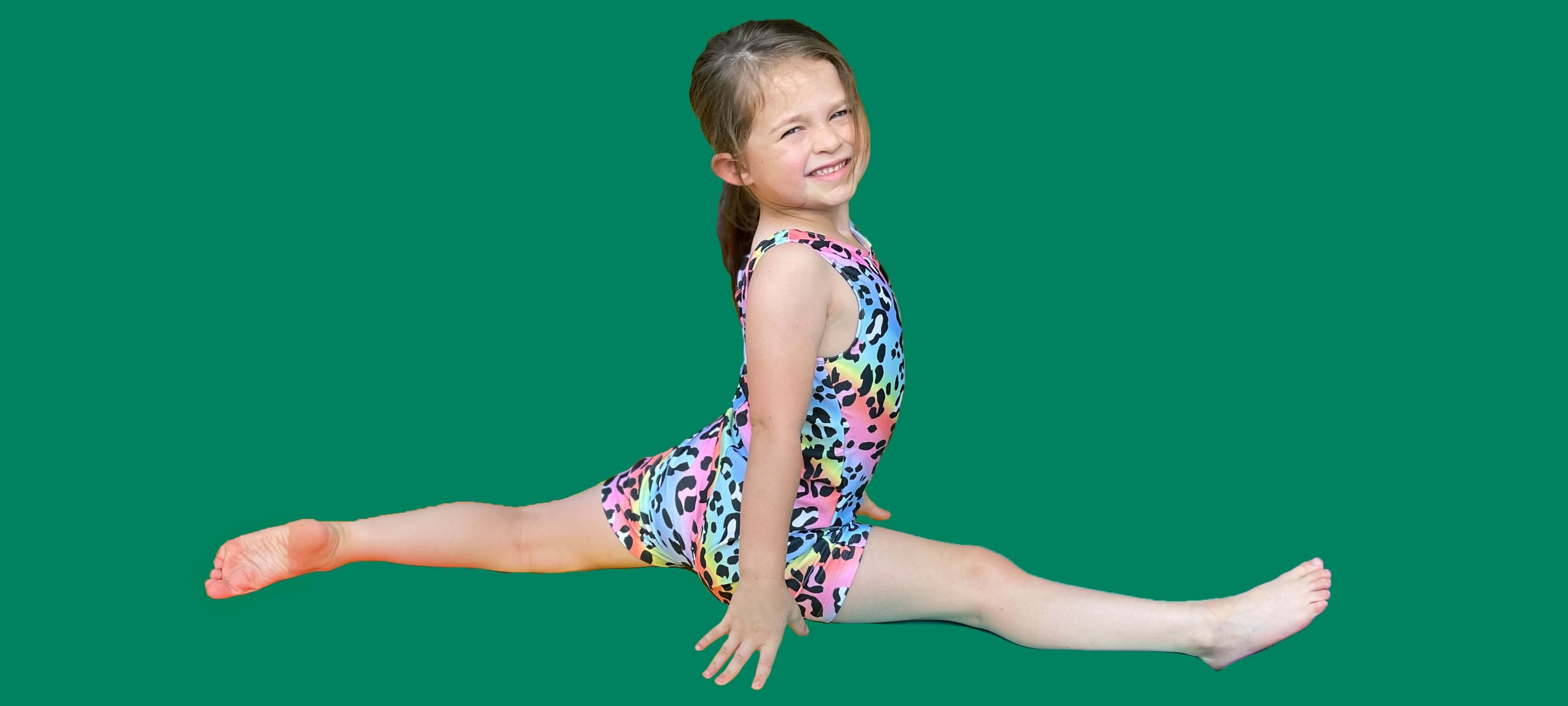 Joystream Gymnastics Unitards for Girls
At Joystream, we know that every young gymnast needs the right gear to push boundaries and reach new heights. That's why we've got you covered with our girl's gymnastics unitards that fuse style with quality to give your little one an edge. Our collection is curated to cater to girls aged 5 to 16 years old, so you can count on us to meet all your child's gymnastics unitard needs. Whether it's a competition or a training session, our girl's gymnastics unitards are designed to offer comfort, flexibility, and durability, so your budding gymnast can focus on her performance. Explore our collection of girl's gymnastics unitards and take a step towards helping your athlete shine.
Gymnastics Unitards
Girls' Activewear & Sportswear for Sale
Unleash your little athlete with JOYSTREAM's extensive range of girls' activewear. From rhythmic gymnastics costumes to gymnastics shorts, tennis outfits, and ballet dresses, we have everything your girls need to enhance their performance. Our activewear collection also features swimwear, figure skating outfits, synchronized swimming suits, Latin dance outfits, biketards, dance leggings, and a variety of accessories to amp up style and comfort. JOYSTREAM is committed to providing top-quality activewear made of environmentally-friendly and healthy fabrics to elevate your sporting experience.

Joystream Gymnastics Clothes & Outfits
When it comes to girl's gymnastics clothes, JOYSTREAM has got you covered. Our range of high-quality gymnastics suits and outfits for girls are designed to keep your young athlete comfortable and stylish throughout training and competitions. From sleeveless leotards to open back training leotards, we have a variety of styles, colors, and embellishment options to choose from.
Our commitment to using only the highest quality materials and innovative production techniques like sublimated prints and embroidery ensures that our gymnastics wear for girls are built to last. At JOYSTREAM, we understand the importance of confidence in gymnastics, and that's why our girl's gymnastics clothes are designed to make your young athlete feel confident, comfortable, and joyful.
To ensure that you're purchasing the best gymnastics leotards for your little athletes, taking into consideration factors such as size, style, color, and fit will help girls shine bright and feel confident on the mat. Leotards and unitards are two main types of gymnastics outfits for little girls. Let's explore the difference.
A gymnastics leotard is a one-piece garment that covers the upper body, arms, and legs, while a gymnastics unitard is a two-piece garment that includes a crop top and shorts or leggings. Both outfits are popular among young gymnasts, but the type that your child prefers will depend on their personal style, body type, and preferences.
There's a range of styles and designs to suit every young gymnast at JOYSTREAM, whether they're just starting out or are already seasoned pros. From classic, simple styles to cute, vibrant patterns, we have something for everyone.
JOYSTREAM gymnastics suits for girls make the perfect gifts for aspiring gymnasts. With a wide range of styles and colors to choose from, our suits are designed to make any young girl feel like a true superstar. From beginners to advanced gymnasts, our suits are the perfect addition to their training wardrobe and will give them the confidence they need to reach for the stars.