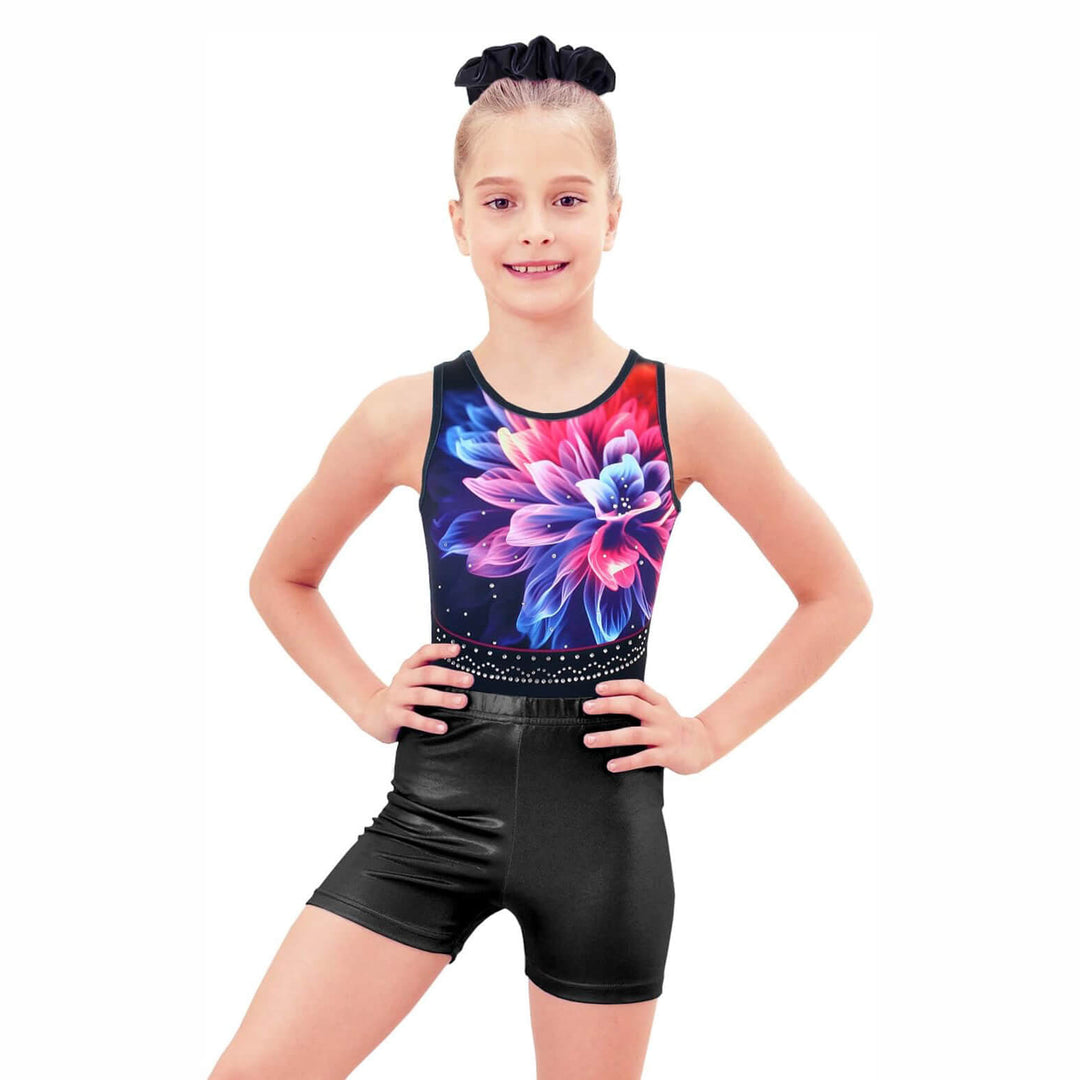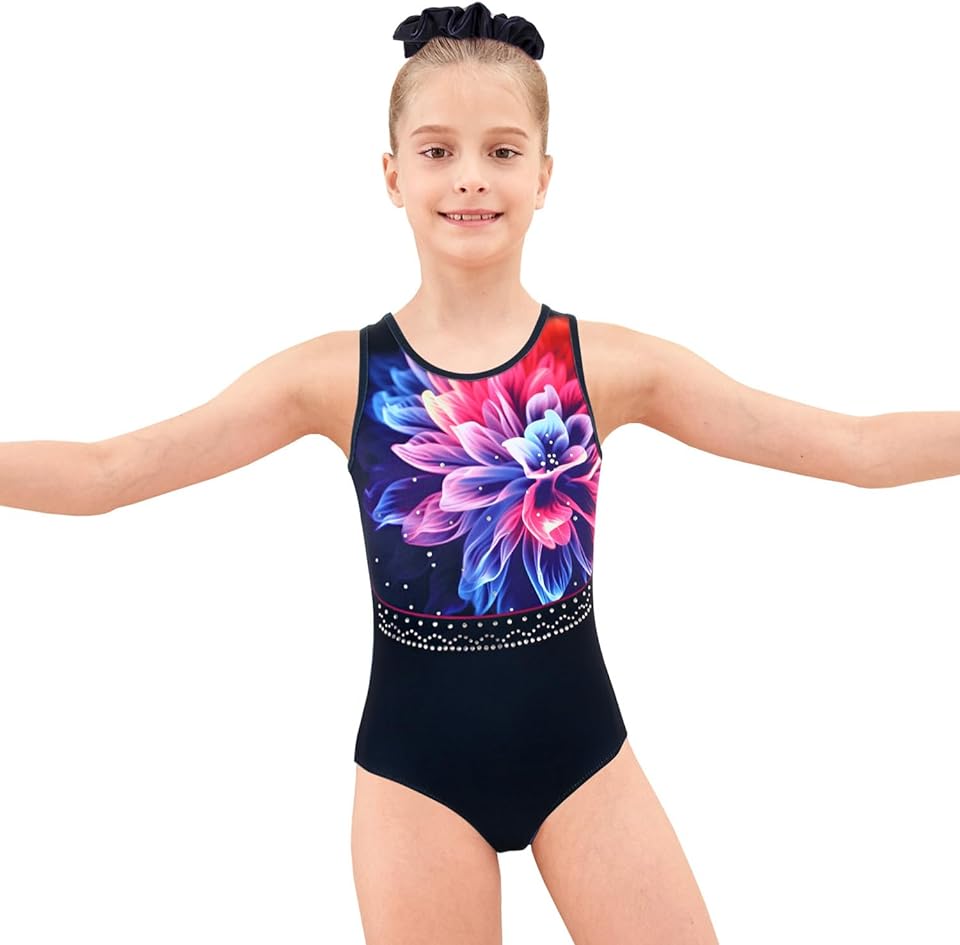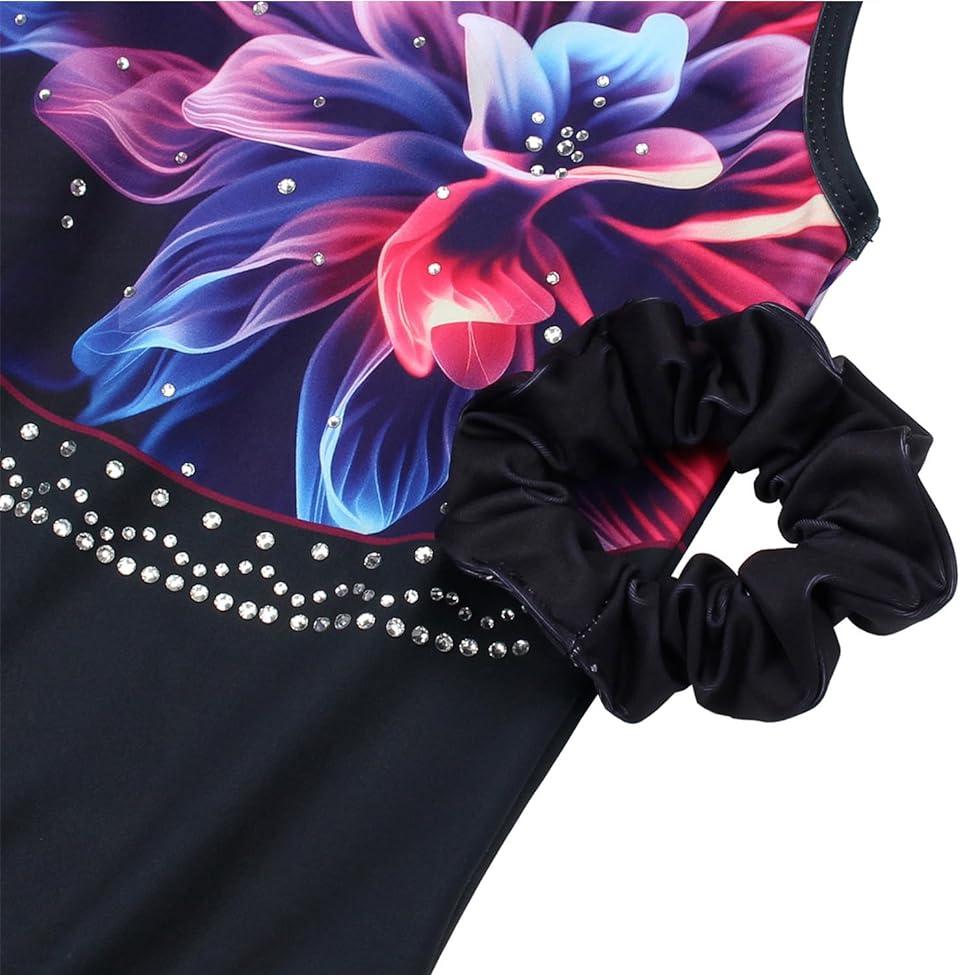 Black Flower Crystals Gymnastics Leotards Outfit Set
In stock, ready to ship

Inventory on the way
Free U.S. Shipping On Orders $49+
This exclusive, youth girls leotard set is the perfect fit for rhythmically creative gymnastics and dance performances. Beautifully crafted with black fabric and decorated with shining crystals and shimmering sequins, this one-piece will surely make your youngster stand out while she soars in her routines.
Features:
- What's Included: 1*Gymnastics Leotard; 1*Gymnastics Shorts; 1*Matching Scrunchie
- All Fabrics: 80% Polyester / 20% Spandex
- Girls' training gymnastics leotard set

- Flower and Sequins Pattern

-Pull-on closure ensures a secure fit, providing the gymnastics movements necessary to perform with ease

- Breathable, comfy, light-weighted, quick-dry, sparkly, skin-friendly, soft, not see through and stretchy
- Higher neckline on the front of the leotard, and back body features several bands forming a cross-strapped pattern

Fabric Care:
- Hand Wash / Gentle Machine Wash
Do: Soak items in water 
When washing your gymnastics outfits, it is important to make sure that all surfaces of the fabric, including interior seams and lining, are exposed to water. Before putting your gymnastics items in the washing machine, make sure you soak them in water to ensure that all dirt and grunge are loosened. It is also important to choose the right detergent for your gymnastics outfits, as some protein-based detergents can cause the fabric to lose color, stretch, or become weakened. Detergents that are specifically designed for activewear can be quite helpful when it comes to making sure that your fabrics are cleansed effectively and free of glycerin, sweat, and oils. 
Don't: Use too much detergent
It is important to avoid using too much detergent when washing or
soaking gym uniforms. As mentioned, some detergents are specially designed for activewear that contains special formulas to keep the fabric vibrant and strong, so there is no need to use more than what is recommended on the packaging. Over-sudsing can cause build-up on the fabric and may lead to loss of color and cause the material to break down faster. 
Do: Use a gentle cycle
When it comes time to actually put the item in the washing machine, make sure to choose a gentle cycle. This will ensure that the fabric is not exposed to a cycle that is too harsh and may cause ripping or tearing of the fabric. Also, be sure to properly segment your gym items from other clothing to ensure that it is not exposed to items that are
rougher or have more lint during the washing cycle. 
Don't: Put items in the dryer
When it comes to drying, never ever put your gym garments in the dryer! The heat will not only cause shrinkage, but it may also cause the fabric to break down faster. Further, it also carries the risk of melting sequins and elastic. To dry your items, simply hang them up to air dry, or, use something like a bed sheet to lay the items flat on.
Do: Take care of special items
When it comes to special items, such as gymnastics leotards, you have to take additional care to ensure that they last. Sequins and gems on leotards should be taped over with adhesive tape before the leotard is washed to ensure that the decorations don't fall off during the cycle. After the gymnastics leotard has been washed and dried appropriately, remove the tape before wearing it again. 
Taking proper care of your gymnastics outfits is essential to make sure that they last and still look their best. Make sure you follow the above tips and also consult the specific care instructions for each item. With proper care, your gymnastics outfits will stay as good as new
for as long as possible and will continue to represent you in an amazing way in the gym.
Free Shipping:
- Free Express Shipping on all US orders over $49
- Free Standard Shipping on INTERNATIONAL orders over $99
Estimated Delivery Time:
- 3-5 business days on US orders
- 7-12 business days on INTERNATIONAL orders
Returns:
- Returns are valid within 30 days from the date you receive the product
- Garment that is unworn without any damages and has all tags and scrunchie attached can be returned or exchanged
For more details, see our Shipping Policy or Returns & Refund Policy.